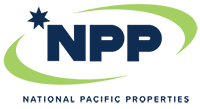 In 2005, after more than 20 years, Burbank decided to cement its reputation as one of Victoria's leading builders by establishing its own residential land development business - National Pacific Properties (NPP).
Leveraging the knowledge gained over many years as a partner on land development projects, Eddie Sanfilippo assembled the NPP team and launched its first project, 'Reflections', in Tarneit.
The success of this now completed development, which incorporated a 20 lot display village with 5 of Melbourne's major builders, plus an extensively landscaped lake, wetlands and park area, was the sound base from which the current portfolio of projects has launched.
NPP currently has projects at various stages of completion across the Melbourne metropolitan area in Clyde, Officer, Mernda and Kalkallo, as well as regionally at Curlewis on the Bellarine Peninsula.
Website